Moroccan Mosaic: A Women-Only Expedition to the Soul of Morocco with Sisterhood Travels
Discover the heart of Morocco on Sisterhood Travels' "Wonders of Morocco 2024" tour, tailored exclusively for women who seek adventure, cultural immersion, culinary delights, and the bond of sisterhood. Our expedition will whisk you away to a captivating realm where you'll uncover Morocco's enchanting landscapes and rich history.
This exceptional adventure will lead you through the heart of Morocco, where you'll encounter a blend of ancient traditions and modern marvels. The journey begins in Casablanca, a city of timeless allure, where you'll be welcomed with open arms. From there, we'll embark on an odyssey that takes you to the majestic capital city of Rabat, where you'll have the chance to explore architectural gems, experience local culture, and dine in traditional Moroccan style.
Venturing further, we'll journey into the ancient city of Fes, where you'll explore the mystical medina, visit historic landmarks, and delve into Morocco's spiritual and academic legacy. Our adventure continues to the Sahara Desert, a place of awe-inspiring beauty and rich cultural encounters. Here, you'll experience camel rides, meet local nomadic communities, and witness the desert's mesmerizing transformation at sunrise and sunset.
As we traverse the captivating landscapes, you'll be enchanted by the fortified villages, historic kasbahs, and the remarkable Ksar of Ait-Ben-Haddou. The journey culminates in the vibrant city of Marrakech, where you'll explore its bustling souks, ornate palaces, and lush gardens. Throughout the trip, you'll enjoy delicious Moroccan cuisine, participate in interactive experiences, and connect with local communities.
This adventure is not just a journey but an opportunity to create lasting memories and friendships. Join us on this exceptional tour, where you'll be embraced by Morocco's enchanting beauty and warm hospitality and become part of a sisterhood that will make this experience truly unforgettable.
Welcome to Morocco! After you land in Casablanca, your driver will transfer you to our hotel in Rabat. Take time today to relax, rejuvenate and recalibrate. Check-in time at our hotel begins at 3:00 pm. Perhaps you'll meet with your new Sisters this evening for an informal gathering. No meals are included today.
Hotel: Flower Town Hotel & Spa, Rabat
Today is yours for rest, relaxation, or independent exploration with your new Sisters. Your Tour Director will arrange a short vicinity walk to help acquaint you with the area around our hotel. (Breakfast)
Hotel:  Flower Town Hotel & Spa, Rabat
Today, we'll come to know Rabat on an in-depth tour with a local guide who will share his knowledge of this city and its architectural gems. We'll visit the Chellah Necropolis, a walled town with Roman ruins and a medieval necropolis. Next, we'll explore the Mausoleum of Mohammed V, the epitome of modern Moroccan design. The mausoleum's ornate woodwork, marble, and bronze ornamentations make this a tomb truly fit for a king. See the Kasbah de Oudaias and its whitewashed buildings. Enjoy free time to explore independently with your Sisters in the afternoon. At the end of our day, we'll gather for a Welcome Dinner at a local restaurant. (Breakfast and Dinner)
Hotel: Flower Town Hotel & Spa, Rabat
This morning we'll depart Rabat for Fes this morning. En route to Fes, we'll stop at a beautiful winery estate for a tour, tasting, and lunch. You'll have time to explore the winery's grounds on a guided tour through the vineyard and cellar, taking in sweeping views of vines and tasting some of the vintages. We'll end our tour with a fabulous lunch at the estate. Then, we'll continue on to Fes, where we will spend the next three nights at our riad. (Breakfast and Lunch)
Hotel: Riad Yacout, Fes
Today, get ready to discover Fes, one of the holiest cities in the world. Learn about its history as a center of government, philosophy, medicine, and religion. We'll visit the Royal Palace and the Al-Qarawiyyin University, the oldest continuously operating university in the world (UNESCO), admiring its high arches and Andalusian influences.
On a walking tour of the 9th-century medina, we'll explore the alleyways and stalls of this ancient market. (Breakfast and Dinner)
Hotel: Riad Yacout, Fes
Today, we are headed to Meknes and Volubilis. On this full-day tour, we'll experience Meknes, one of four Imperial cities in Morocco, where we will see the Bab Mansour gate. After an included lunch, we'll travel to Volubilis, a UNESCO World Heritage site with its impressive and well-preserved Roman ruins. (Breakfast and Lunch)
Hotel: Riad Yacout, Fes
We will cross some of Morocco's most breathtaking desert landscapes on the way to the Sahara today. En route, we'll pause in Midelt to bask in majestic views of the Middle Atlas Mountains. Later, we'll arrive in Erfoud, called "Door to the Desert," where many famous movies were filmed, including The Prince of Persia and The Mummy. (Breakfast, Lunch, and Dinner)
Hotel: Kasbah Xaluca Erfoud Hotel
This morning, we'll learn a little more about local life at El Maadid Ksar, a village with narrow lanes surrounded by ancient, fortified walls. Spend some time walking through town with your Sisters and get an authentic look into how local people live, like the farmers who spend their days tending to fields on the outskirts of the village. This evening, we will go into the Sahara aboard 4×4 Jeeps for a 2-night stay in a luxury tented camp in the desert among the stars. (Breakfast and Dinner)
Hotel: Relaxing Desert Camp, Merzouga
Rise early to watch the sun illuminate the Sahara in stunning orange, yellow, and red hues. This morning, you'll have the opportunity to ride through the dunes on the back of a camel. We'll continue our day by traveling to the village of Khamlia, where we'll meet with locals for an eye-opening and meaningful discussion before experiencing traditional sub-Saharan Gnawa music. The next step of our desert expedition brings us to meet a nomadic community where we'll learn more about this ancient way of living and how their traditions have changed. Later, we'll return to our camp as the sun sets over the desert. This evening, sit with our Tour Director and learn more about the importance of Islam in Morocco through the centuries and its impact in today's day-to-day life in sub-Saharan Africa. (Breakfast, Lunch, and Dinner)
Hotel: Relaxing Desert Camp, Merzouga
Return to the edge of the desert this morning and marvel as the sun illuminates the vast sands.
We'll visit the fortified village of El Khorbat. Dating back to the 17th century, this village showcases Jewish and Muslim architecture and artifacts. Learn more about Berber culture while visiting the museum within the village.
Sit down for a simple lunch at a local restaurant. This experience supports a business whose profits are used to conserve the cultural heritage and improve the living conditions of this small community.
Later, we'll arrive in Boumaine du Dades, where a golden sun lights up the gorge's river valleys, palmeries, and burnished mud-brick homes. (Breakfast, Lunch, and Dinner)
Hotel: Hotel Xaluca Dades, Boumaine du Dades
Today, we'll follow the rugged "Road of a Thousand Kasbahs," where turreted fortresses rise up like sandcastles along this ancient trading route. We'll arrive at the UNESCO site of the Ksar of Ait-Ben-Haddou and discover the earthen buildings, defensive walls, and corner towers that make the Ksar a striking feat of Moroccan architecture.
Before we reach the exotic city of Marrakech, we'll experience a homemade meal and then continue along the Tizi n'Tichka Pass in the High Atlas Mountains, a scenic route through lush oasis valleys, imposing mountains and several Berber villages. (Breakfast and Lunch)
Hotel: Es Saadi Hotel, Marrakesh
Among the mosques and palaces, souks and riads, we're going to visit the Jardin Majorelle, an iconic site that showcase the beauty and ingenuity of Morocco's cultural heritage and, then visit the ancient El Bahia Palace, whose architecture is a distinct blend of both Islamic and Moroccan styles. Then it's your choice! Embark on a walking tour with a local guide, stopping at shops along the way -OR- relax in a traditional Hammam, a community bathhouse where locals still gather to relax, cleanse, and socialize today -OR- return to the hotel to relax by the pool. (Breakfast and Dinner)
Hotel: Es Saadi Hotel, Marrakesh
Today, we've arranged an exclusive visit to a local women's training center with an interactive cooking class. Head to a garden on the property grounds to source your own herbs and vegetables and learn the secret to making the country's most celebrated dish: the tagine. Enjoy the rest of your day and evening with your Sisters. (Breakfast and Lunch)
Hotel: Es Saadi Hotel, Marrakesh
We'll depart Marrakech for Casablanca this morning. Upon arrival in Casablanca, we'll visit the largest functioning African mosque, the Hassan II Mosque. Learn about this mosque's history and significance on our private tour. Gaze upon the intricate, colorful artistry of ceramic tile and hand-carved stone of this architectural wonder. This evening, we'll join together for our Farewell Dinner at a local restaurant. (Breakfast and Dinner)
Hotel: Barcelo Anfa Casablanca
Sadly, our adventure comes to a close today, leaving us with memories of a lifetime and meaningful new friendships. (Breakfast)
Marrakech Memories: Tales from Our Traveling Sisterhood!
"Morocco with The Sisterhood exceeded my expectations in every way! Our guide was outstanding, and we learned so much. It would be difficult to duplicate this experience on your own, and I believe it was an excellent value for the money. The women on this trip were friendly, fun, and inclusive. So many friendships were formed, and we look forward to seeing each other again on future Sisterhood tours."
"I just had an amazing experience exploring Morocco with Sisterhood Travels. Our tour guide, Mohammed was knowledgeable and passionate about his country. The group of women on my trip were wonderful and adventurous. I will be planning another trip with the group."
"My trip with Sisterhood was fantastic. Everything was planned well, and the experiences were terrific. Communication throughout was great. It was a fantastic group to travel with. I will definitely do more trips with Sisterhood."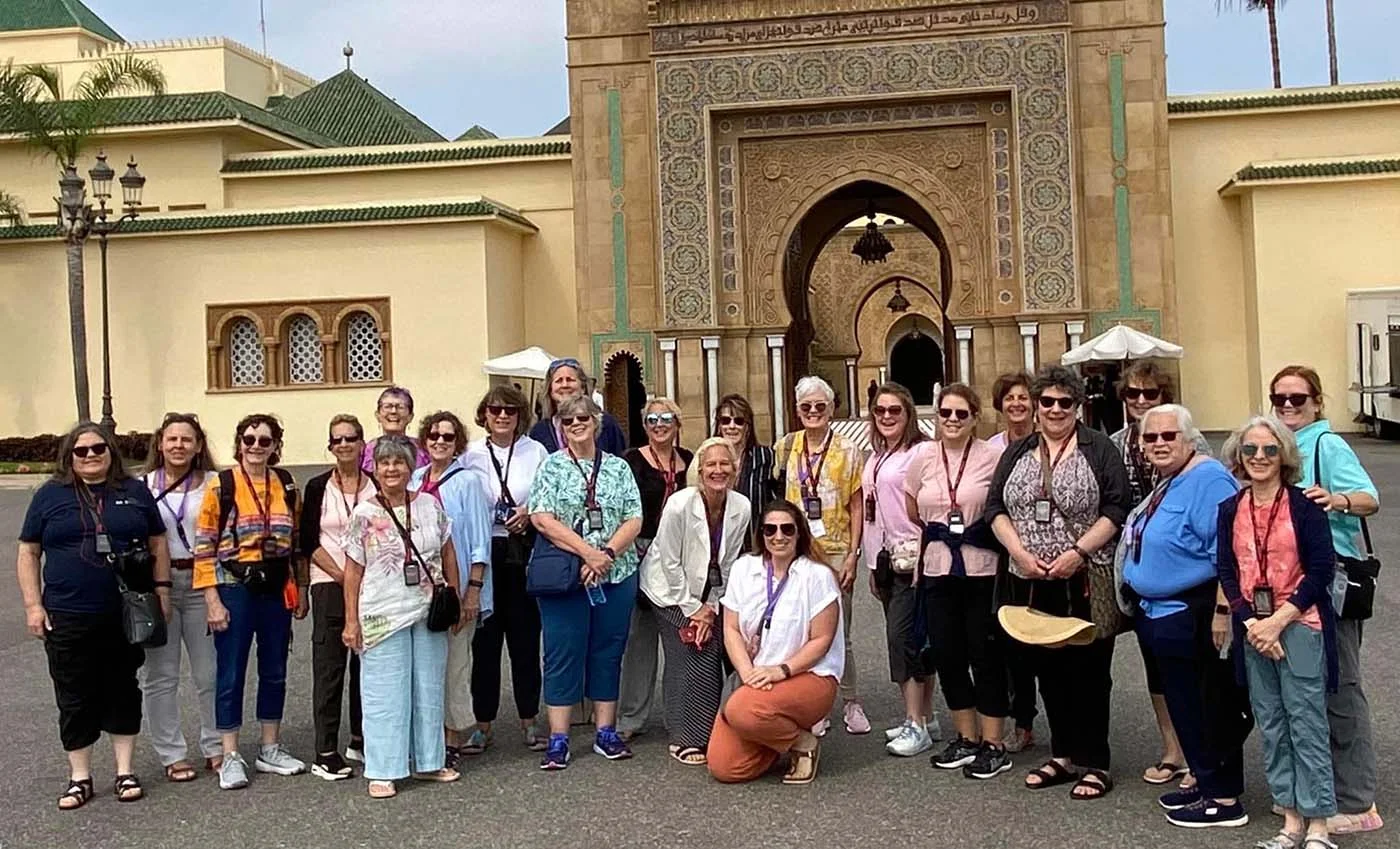 "Our group of women on this tour with me were outstanding! Far exceeding my expectations! I will have many new friends that may last my lifetime."
"The glamping in the desert with a camel ride is at the top of the highlights of this trip."
"Morocco was an absolutely fantastic trip! I learned so much about the rich history, culture, religions, and people of Morocco. Our guide was truly a pleasure to learn from and I met 23 amazing future travel buddies! I look forward to my next "Sisterhood" trip."
PLEASE READ THIS INFORMATION CAREFULLY
There will be a maximum of 24 Sisters on this tour, including your Sisterhood Travels Group Leader
International airfare, roundtrip Casablanca (CMN) is not included in your pricing.
Your flight must arrive on November 7, 2024. You may arrive at any time. Your room will be available for check-in at 3:00 pm.
You may depart at any time on November 21, 2024.
All flight arrangements must be submitted to Sisterhood Travels on or before July 8, 2024. If you need help making flight arrangements, or to submit your independent flight arrangements, please click here for Airfare Information.
Arrival transfers are provided only on November 7, 2024, from the Casablanca airport to our hotel. Departure transfers are only provided on November 21, 2024, from our hotel to the Casablanca airport. If you arrive or depart outside these days and/or you're needing transfers or hotels elsewhere, you are responsible for making your own arrangements at your own expense.
Fully equipped Berber-style luxury tents include beds, linens, pillows, flush toilet, running water, shower, and solar lighting.
Due to luggage size and weight restrictions, you must bring an overnight duffel bag for the 2-night stay in the Sahara. Your main luggage will be securely stored during these days.
You must hold a passport that is valid for six months beyond November 21, 2024, or the date of your return.
Please don't schedule any optional excursions on your own for this trip, as we cannot promise that you will arrive in time at any location to make your independent excursion. Sisterhood Travels won't be liable for any expense you incur because of this.
Gratuities for your Tour Director and local guides are not included in your pricing. We will provide you with tipping guidelines for your trip.
Optional Travel Insurance is not included in your pricing. We will send you a quote via email.
We cannot accommodate wheelchairs or assistive mobility devices on this trip.
Please remember that accommodations in other parts of the world tend to be smaller than what we are used to in the USA, especially single occupancy rooms.
There are no refunds for unused portions of this tour.
Dates and times of itinerary as well as hotels listed are subject to change without notice due to operational or logistical reasons.
Any optional expenses or expenses related to anything not specifically listed in this itinerary are not included.
This is a consistently robust itinerary that is likely to be filled with a combination of long, active days, several early hotel departures and some long journeys by coach. There may be limited time for rest and rejuvenation as you explore these amazing destinations. There may be multiple flights and travel by non-traditional means such as safari vehicles, rickshaws/pedicabs, etc. Guests should have reasonable health and mobility and be capable of walking 1-2 miles over time over potentially difficult terrain which may include hills. Guests should be comfortable with standing for longer periods of time with no difficulty.